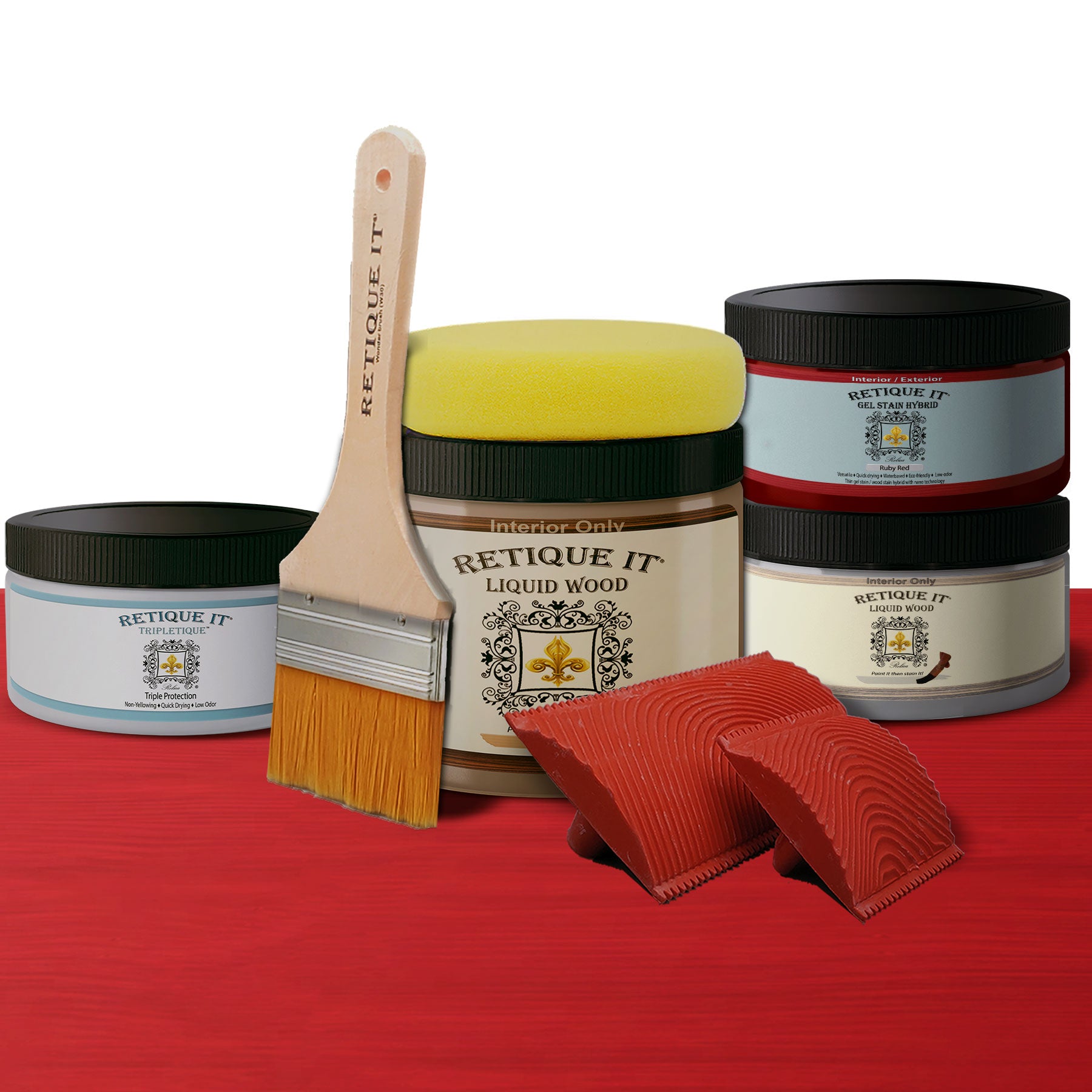 Weathered Finish Kit - Ruby Red
Finish Options
Color Options
×
Free 2 Day Shipping applies on the following:
Shipments to the Continental US only
Orders over $35 before taxes
Orders placed by 11 am will be shipped same business day
Orders after 11 am EST will be shipped on the next business day
Orders place on the weekend will be shipped next business day
Not applicable for wholesale customers
Not applicable on orders to Post Office Boxes
We also ship to the following countries
Canada, Mexico, All of Central & South America
UK, France, Germany and all of Europe
Japan, South Korea, Australia, New Zeland
Many countries in Africa
and many more...
shipping cost and speed vary
Patented, revolutionary
Liquid Wood Coating
Retique It is a patented, revolutionary new product which makes virtually any hard surface stainable without having to sand or strip off the old finish. The surface will become like bare wood because Retique It contains real wood. The stain will absorb just like it was an unfinished wood surface. Your final finish will look and feel like a genuine wood finish because it is genuine wood. Great for Furniture, Cabinets, Doors, Drywall, Cement, Plastic, Metal and Virtually any other hard surface! Just paint then stain to get a genuine wood finish. Looks and feels like real wood because it actually contains 66% genuine wood! If you want a raised defined grain, you can use the graining tool kit. Just apply a second coat of Retique It once the first is dry and grain it while it is still wet. Use the same color or a different color depending on how defined you want the grain.
Looks & feels like wood - This is genuine liquid wood, not a faux finish therefore it looks like wood, feels like wood because it IS wood
Stainable and sustainable™ - Contains 65% recycled wood fibers
Easy to use - Just paint it, stain it and seal it (See below)
Safe to use - Water based, low VOC and low odor
Easy clean up - Just use soap and water
Wood finish anywhere - Now you can put a wood finish over painted, stained, MDF, metal, virtually any hard surface
Transform furniture
Cabinets
Floors
Countertops
Beams
Doors including garage doors
Walls
Cement
Decking
Virtually any hard surface
Retique It® liquid wood is a patented, revolutionary new product which makes virtually any hard surface stainable without having to strip off the old finish. The surface will become like bare wood because Retique It contains real wood. When you apply Retique It to a surface you are actually applying a thin layer of wood which can be finished using any color stain.
Retique It® is water-based, biodegradable, and has virtually no VOC's, with no offensive smell and less damage to our environment.
Retique It® can be applied using an inexpensive paint brush or paint sprayer by professionals and DIYer's alike. Cleanup is as simple as using soap and water.
Retique It® allows you to skip the time-consuming step of stripping the old finish. The adhesion and absorption properties are excellent, which allows your stain to absorb like it would on an unfinished wood surface. After applying Retique It, you can use any manufacturer's stain, paint or sealant to create the look and finish you want.
Step 1 - Prep the Surface


Pour 1-part denatured alcohol (or rubbing alcohol) and 1-part water into a spray bottle or bowl. Wipe surface down with mixture.
If surface is shiny or it has a wax/furniture polish on it, then scuff the entire surface up with sandpaper to give it tooth (This is just to remove any wax and give better adherence for the base coat.)
Patch any divots or holes with Retique It® Mud.
Step 2 - Paint It


Apply one coat of Retique It® Light Wood as your base coat.
Make your final strokes long and even. (Stay consistent with the direction you want the grain)
Clean your brush while you give the project 2 hours to dry completely. If you are limited on time, then use a blow dryer (Dry time may take as little as 15 minutes with the use of a blow dryer on high heat)
Apply a second coat of light wood.
Clean your brush while you give the project another 2 hours to dry completely (Consider using a blow dryer again)
Move your hand over the surface, if any bumps or specs are detected, then lightly sand them smooth.
Step 3 - Grain It (Optional)
For Weathered and Rustic finishes only


If you ordered a Brushed Finish Kit, then you can skip this step. A graining tool is not included in the Brushed Finish Kit.
The graining tool is used to get a pronounced grain.
NOTE: If you received 2 liquid wood shades in a kit, then the smaller container of liquid wood should be used as the graining coat.
Rustic Kits come with Dark Wood for graining.
Weathered Kits come with Bleached Wood for graining.
Apply a thin coat of either Dark or Bleached Liquid Wood in small sections at a time about the size of a wood plank. This is so that the Liquid Wood does not have time to dry before you grain it.
While the liquid wood is still wet, pull your graining tool in long even strokes across the entire piece. Rolling the graining tool up or down will create the grain variation and knots. Do not stop when pulling the graining tool from one end of the surface to the other. Try keeping one long continuous movement.
Wipe your graining tool off with a damp paper towel between strokes.
If you don't like the grain, then pull the graining tool over it again. If you still don't like it, then paint more liquid wood over it and start on that stroke again.
Wash your brush while you allow your project to dry for 2 hours or use a blow dryer to speed up your dry time.
Step 4 - Stain It
With Retique It® Water-based Gel Stain
Put on protective gloves (Optional)
Thoroughly stir your stain.
Get out your yellow sponge applicator to wipe on your Retique It® water-based gel stain. (Make sure you wet your sponge with clean water and squeeze out just prior to staining as this will prevent streaks)
If you're staining a very large surface (like a dining room tabletop), then keep a bowl of water on hand to dip and lightly squeeze excess out. Always remember to generously dip your sponge into the stain. Never overwork your stain or allow your sponge to get dry. Using a dry sponge to apply Retique It® waterbased gel stain may cause streaking.
Wipe on your stain in long even strokes going in the direction of your grain.
Allow stain to dry. If you want a darker shade apply more layers allowing each layer to fully dry. (Pulling the stain off is optional, not usually necessary)
Allow the last layer of stain to dry for at least an hour (Using a blow dryer on high heat may shorten your dry time to under 10 minutes for each layer of stain)




To Get a Darker Finish




Each time you layer another coat of Retique It® Waterbased Gel Stain, the finish will become darker and richer.

You can just stick with one coat, or layer up to 4 coats of the same color stain that comes in your kit. Another option is to layer different colors of Retique It® Gel Stain to give you a completely custom color finish.
Show It